2
Accountable are happy to be involved as little or as often as the business needs. Our pricing is completely transparent and we offer a fixed price pay by the month retainer fee option that enables you to spread the cost and not receive any hidden surprises.
1
Accountable is what you are looking for if you are seeking reliable and affordable solutions to your business administration burden. We use the latest software -Xero, to empower the business to enable fast, accurate and effective decisions to be made, keeping you ahead of the competition.
3
Our engagement letters and terms of business are real life, they are understandable and to the point. We don't want you to have to deal with more red tape than you have to. Our business expert, Sol, has all the qualifications and experience needed to fulfil all your accountancy requirements plus more.
OUR CORE SERVICES
Founder & Managing Director
Tel: 07797 832 899
Sol Thacker, Managing Director, was educated in Australia and is a current member of the Institute of Chartered Accountants in Australia. Sol
'
s career began as an auditor for Ernst & Young (Brisbane) focusing primarily on clients in the Retail, Construction and Tourism industries before transferring to Jersey. During his 12 years in Jersey Sol has further focused his career on commercial accounting for businesses ranging from local E-tailers to mining and more recently finance. Sol
'
s enthusiasm has always been for assisting young businesses in growth strategies. During his spare time Sol enjoys cycling and being on the water, whether it be swimming, jet skiing or out on his boat.
Michelle Taylor was Born and educated in Jersey. Starting her accounting career over 20 years ago and studying her AAT and ACCA qualification along the way, she has gained her financial experience working within the private sector and most recently before joining accountable, a management accounts role within the public sector.
She is experienced in a wide range of accounting software including quickbooks and Xero. With an entrepreneurial spirit, and whilst continuing work within the private sector, she set up and ran her own Bridal business for over 8 years before selling her interest in order to spend more time with her growing family. This experience gave Michelle beneficial insight in the running of a [small private] business.
Outside of work Michelle enjoys being outdoors, keeping active at the gym and spending time with her family and friends.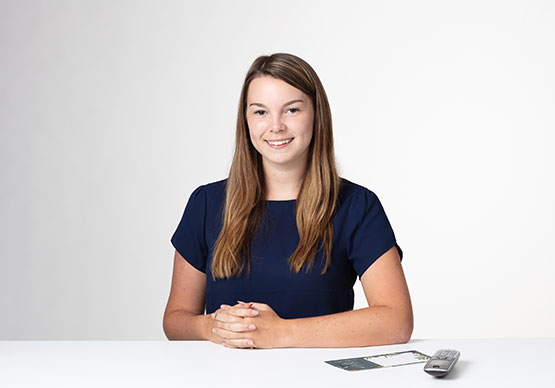 Emily was born in Jersey and attended Jersey College for Girls. She joined Accountable in March 2018 and has just started studying for her CAT qualification. At work, Emily is responsible for submitting ITIS, Social Security and Manpower returns for various clients, and she delivers support to businesses with their bookkeeping queries. In her spare time, Emily enjoys travelling, going for walks, and looking after her two precious cats!
Administrator
(01534) 832899
Sue ran away from her convent boarding school at 14 and went to work at a riding stables.  She married a farmer at 18 and managed to gain some secretarial qualifications.  Sue spent the next twenty years looking after horses and her family (not necessarily in that order?!) Sue is now married to a long-suffering youngish Jerseyman who understands that animals come first in their household.  She loves horse riding, (has her own horse) anything to do with animals and getting muddy, taking part in dangerous sports, dining out, travelling, (especially in France as she speaks fairly fluent French) and being cooked for by her husband rather than doing it herself having failed her cookery GCE.
On a more serious note, Sue has lived in Jersey since moving to the Island from South Africa as a child.  She has had a varied career, initially running a farming and livery business before becoming a PA and spending 18 years in the Finance Industry as a Senior Trust Officer.  Prior to joining the Accountable Team in early 2018 Sue spent 6 years working in the Estate Office at Samares Manor dealing with accounts and giving Manor House and Museum tours to visitors.
She thanks her equally long-suffering boss for providing her with gainful employment and has no intention of retiring any time soon.
Simba works for accountable on a part time basis and can be found in reception to meet and greet our customers.  In his spare time Simba enjoys nothing more than a long walk on the beach and is found very early every morning strolling along Bel Royal with his owner who is half asleep!  Simba's favourite food is chicken and he will not touch dog treats.